Fresh Herbal Extracts from our Farm
Every Herb Farm product contains a special ingredient - a fresh herbal extract from our own gardens, which we use, with our own special alchemy to create effective and fresh skincare and wellness products.
Learn more about the super-powers of these herbs below.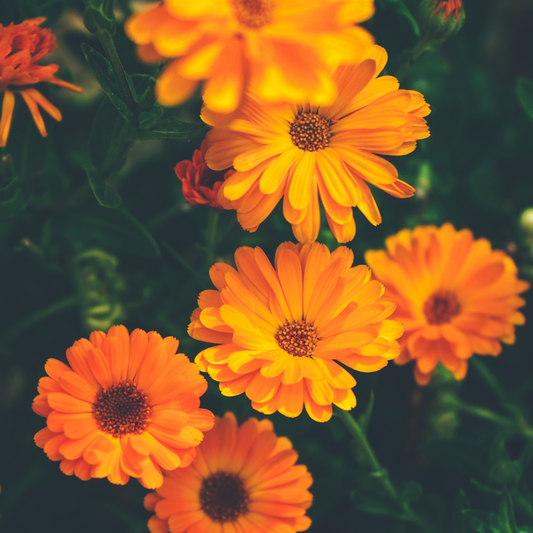 Calendula
One of the most versatile herbs. Brilliant for improving skin hydration and firmness. With its strong anti-inflammatory qualities, Calendula is also known as 'nature's antiseptic'.
Wonderful for increasing blood flow and oxygen. Rich antifungal and antimicrobial properties supercharge healing and prevent infection.
 Grown on-site at The Herb Farm.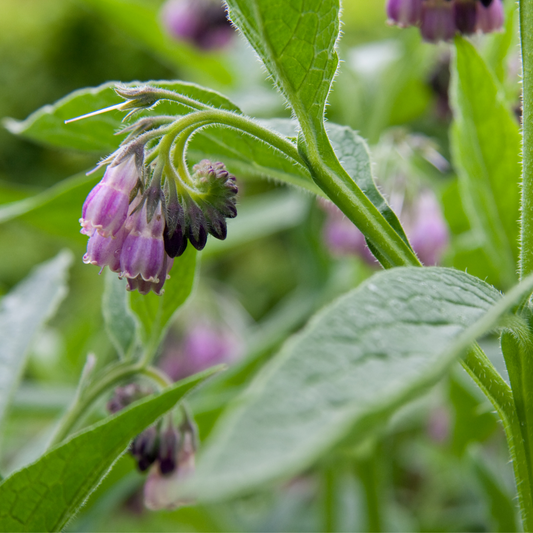 Comfrey
A medicine cabinet staple!
Comfrey's leaves and roots contain allantoin, which helps new skin cells grow, reduces inflammation, and keeps skin healthy.
A powerful healer of bruises, fractures, sprains, pulled
muscles and ligaments, strains, and osteoarthritis.
 Grown on-site at The Herb Farm.

Echinacea
Well known for its immune boosting qualities, Echinacea can also reduce inflammation and relieve pain.
A wonderful antioxidant and mild astringent, Echinacea boosts collagen production, provides hydration, and brightens skin.
 Grown on-site at The Herb Farm.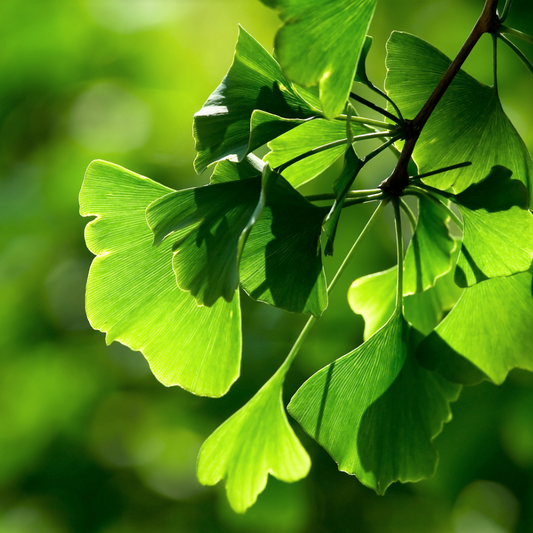 Ginkgo
The anti-aging super herb. Gingko is packed full of antioxidants that protect skin cells from damage caused by free radicals, which can lead to wrinkles and other signs of aging.
Increases moisture retention and smoothness. Improves blood circulation and reduces inflammation.
 Grown on-site at The Herb Farm.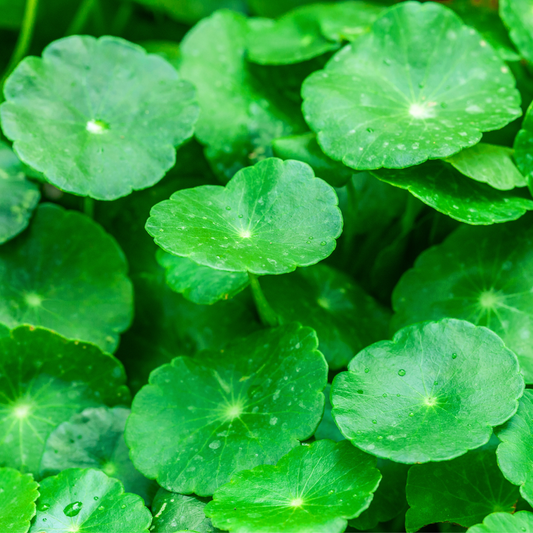 Gotu Kola
Gotu Kola is rich in compounds that keep skin firm and tight. Its wonderful ability to improve blood flow helps the skin's healing process resulting in fewer pimples, scars, and blemishes.
Offers brilliant hydration, improves skin elasticity, and accelerates wound healing. Also known to promote liver and kidney health.
 Grown on-site at The Herb Farm.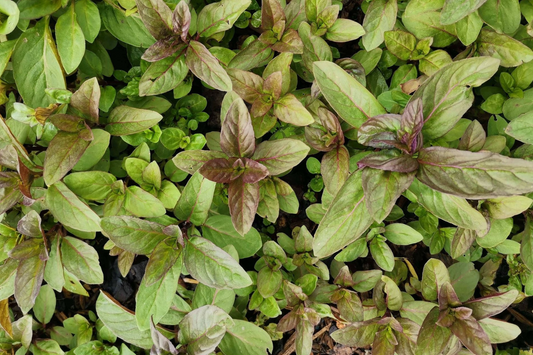 Japanese Menthol Mint
Japanese Menthol Mint has a long history of use in traditional and herbal medicine.
A strong antiseptic that helps fight germs, it is also a stimulant and can be applied to the skin to relieve muscle pain and itchiness. A wonderful digestive aid and can be used to treat fevers, headaches, relieve congestion and clear sinuses.
 Grown on-site at The Herb Farm.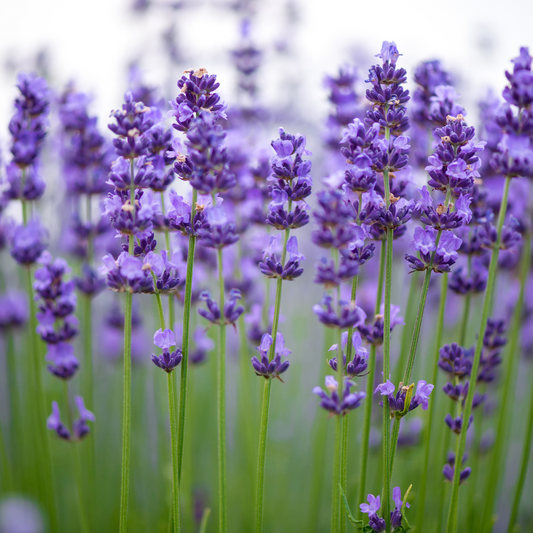 Lavender
Often hailed as a skincare legend, Lavender has many wonderful benefits.
Naturally bacterial, it fights acne and is calming during skin breakouts. A fabulous moisturiser, it soothes dry skin and conditions such as eczema.
An anti-inflammatory superstar, Lavender reduces redness, scarring and heals irritated skin. Plus, its antioxidants help reduce wrinkles and other signs of ageing.
 Grown on-site at The Herb Farm.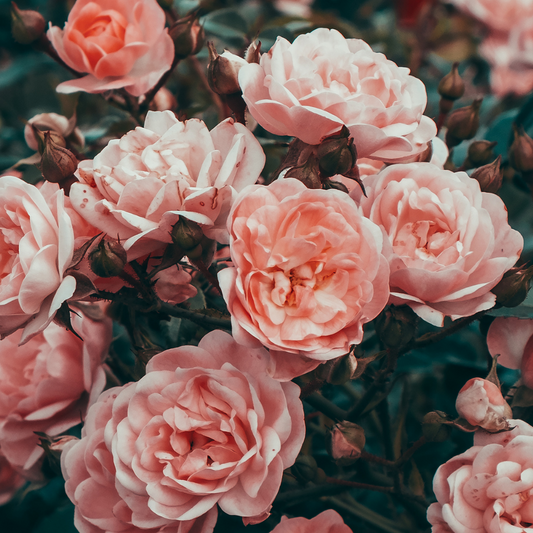 Rose
As beautiful as it is to look at, Rose is also one of nature's skincare powerhouses.
Packed with antioxidants that both strengthen and regenerate skin cells as well as supports anti-aging. Its healing hydration qualities are wonderful for dry skin and help soothe itchiness. It balances skin moisture and helps control excess oil production.
Rose is one of The Herb Farm's skincare stand outs!
 Grown on-site at The Herb Farm.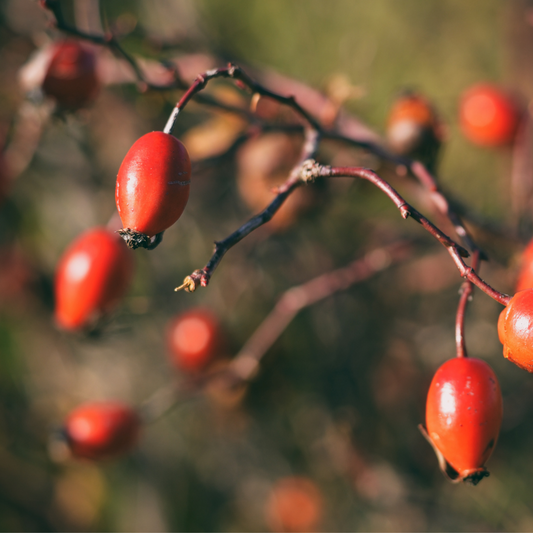 Rosehip
Another skincare superstar! Rosehip is full of vitamins,
antioxidants, and essential fatty acids that fight acne, calm irritated skin, and increase skin cell regeneration.
Helps skin look brighter, smoother, and firmer, and evens skin tone. Plus, Rosehip's anti-inflammatory qualities make it a wonderful remedy for pigmentation and blemishes.
 Grown on-site at The Herb Farm.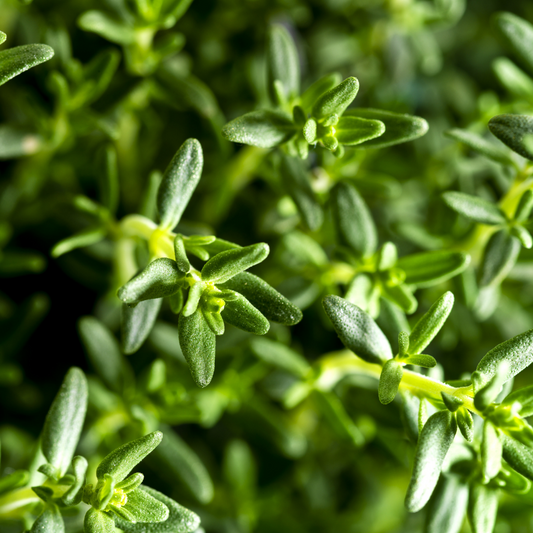 Thyme
Thyme is an absolute herbal weapon. It has so many uses both for skincare and overall health.
It increases circulation for overall skin health and helps repair scarring and blemishes. Antioxidants slow the ageing process and help make the skin soft and radiant. A fabulous moisturiser, Thyme promotes a smooth, youthful looking complexion.
Also brilliant for combatting colds and flus and a powerful immunity booster.  
 Grown on-site at The Herb Farm.
Ingredient Glossary
We combine our fresh herbal extracts with other natural healing ingredients to create our truly natural and beautiful range of products on-site.
Find out more detailed information on all the powerful ingredients that make up our beautiful 100% Natural Skincare, Body Care and Therapeutic ranges.