Using Our Skincare
Our skin is an incredibly vital organ, and it protects us every day. On our faces, it's also what we present to the world, and so investing in products that nourish, nurture and care for our skin is essential. And that's why we've spent years carefully developing and refining our extensive range of skincare so that everyone can access beautiful, natural, and highly effective skincare.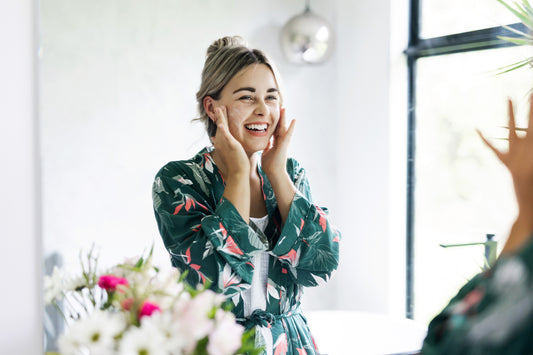 Start with a clean palette

Cleansers are an essential part of your skincare regime. Removing accumulated dirt, oils, makeup, sunscreen, and dead skin cells, our cleansers will help unclog pores and leave your face feeling beautifully fresh and prepped so that the remainder of your skincare products can do their job effectively. 
Cleanse morning and night to remove any oils and impurities that build up over the course of the day, or while you are sleeping.
How to use The Herb Farm cleansers
Start with clean hands, washing them with warm soapy water. 
If necessary, use a makeup remover to gently remove your makeup. 
Using clean, warm (not hot) water, lightly moisten your face.
Apply 1-2 pumps of cleanser and use circular motions to gently massage the product over your face. 
Rinse off with warm water. 
Follow with exfoliator (if using), toner, serum, and face cream.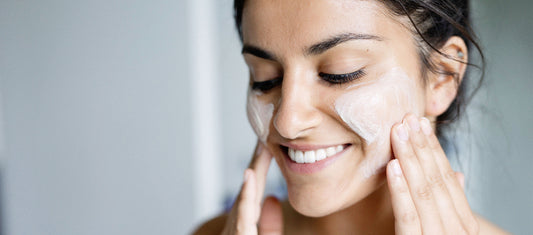 Exfoliate to cleanse and smooth
Our Smoothing Kiwifruit Exfoliator gently buffs away dead skin cells from the surface of your skin, leaving it feeling silky smooth, deeply cleansed, and looking radiant. Suitable for all skin types, you can use it 1 – 2 times per week as needed. 
How to use our Smoothing Kiwifruit Exfoliator
Cleanse your skin using your usual cleanser and rinse with warm water. 
While your skin is still damp, gently massage a small dollop of exfoliator into your skin, avoiding the delicate skin around your eyes.
Leave on for a few minutes and allow the Kiwifruit Extract to deeply cleanse. 
Rinse off with warm water and follow with your toner, serum, and face cream.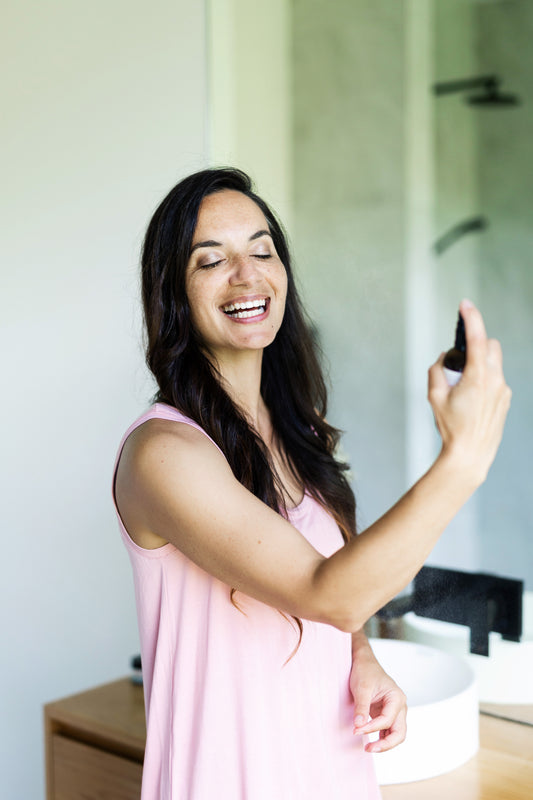 Brightening and tightening toner
An often-overlooked step in skincare, toning is important as it removes any last traces of impurities that may linger after cleansing. While toner may look and feel like water, don't discount its wonderful qualities – it is fabulous at preparing your skin so that serums and moisturisers can incorporate more easily, and also helps tighten your pores. 
You can use our toners morning and evening, but also throughout the day to refresh your skin and makeup. 
How to use The Herb Farm toners
Pat dry your face after cleansing (or exfoliating).
Spritz toner onto your face.
Follow with serum and face cream. 
Supercharge your skincare with our serums
Serums are lightweight facial moisturisers that contain a higher concentration of active ingredients than standard facial moisturisers. A key step in your daily skincare routine, serums bring many benefits such as brightening, added hydration, reduction of fine lines and wrinkles, and more
The Herb Farm serums are designed to address the specific skincare needs within each of our ranges. You can use our serums morning and evening, or as best suited to your skin's unique needs. Trust us, your skin will thank you!
How to use The Herb Farm serums
Cleanse and tone your skin as usual.
While your skin is still damp from toning, apply a few drops of serum and gently massage into your face and neck using upward strokes. 
Follow with your face cream. You can apply your face cream straight away, but if you have time you may wish to wait a few minutes minutes to allow your serum to sink into your skin.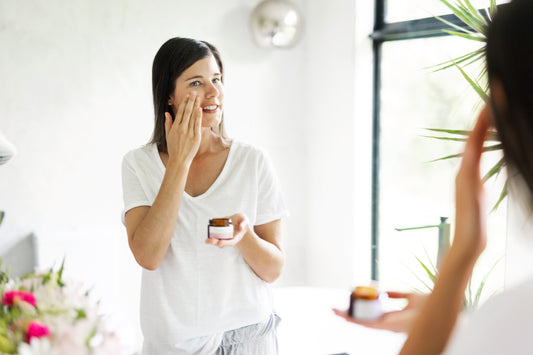 Lock in moisture to finish strong
Our face creams hydrate the surface layers of your skin, sealing in moisture and nutrients while protecting your skin from the environment. They help prevent dryness, provide an essential barrier against things that may irritate your skin, and act as a wonderful base for makeup to be applied. 
Use morning and evening to nourish and protect your skin. 
How to use The Herb Farm face creams
Cleanse and tone your skin as usual and apply your serum. 
If you have time, wait a few minutes to allow serum to sink in. But if not, you can apply your face cream straight away, it will still work just as well!
Gently massage a small amount of cream into your face and neck.